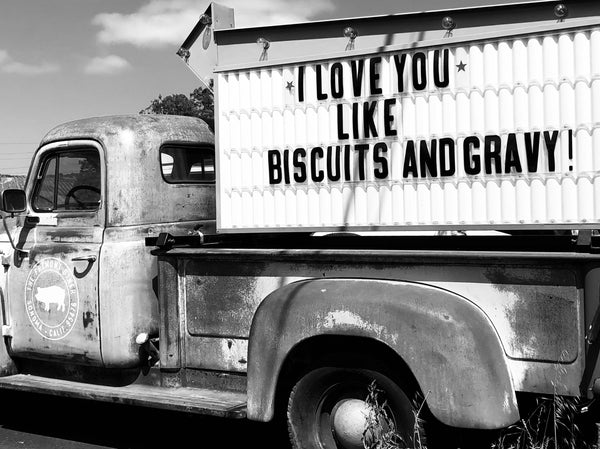 Easy Old Fashion Biscuits and Gravy
I'm going to do this all in one recipe because what is biscuits without gravy and what is gravy without biscuits. I have always thought that from scratch biscuits and gravy would take so long to make and so I have avoided it. I made it today for our family and it did not take as long as I had thought it would. First up, mix up your biscuits:
Sourdough Biscuits: 
This is a great way to use up some of or a lot of your sourdough discard. I have found that using it before you feed your sourdough results in a more flaky biscuit.
1.5 Cups of all purpose flour
1/2 Cup of whole wheat flour
2 tsp. sugar
2 tsp. baking powder
1 tsp. salt
3/4 tsp. baking soda
1/2 cup of cold butter (1 stick)
1 cup of active sourdough 
1/2 cup buttermilk ( I didn't have any on hand so used the classic 1tsp vinegar in milk)
Preheat your oven to 425 degrees F. Line baking sheet with parchment paper.
Cut butter into cubes and throw in the freezer
In a large bowl combine dry ingredients: flour, sugar, baking powder, salt and baking soda.
Put cubed butter in flower mixture and use a pastry blender or fork to blend till it is pea size crumbles.
Add your sourdough starter and milk to the butter/flour mixture and stir using your fork until a soft dough forms. Use your hands to knead a little in the bowl to finish getting the flour mixed in.
Turn dough out on a lightly floured surface. Roll or push with your hands into a rectangle or circle about 1in to 1.5 inches thick. Using a cookie or biscuit cutter (it's ok to use a drinking cup too)  cut out biscuit rounds. Place on baking sheet. Knead the dough together again just enough to cut another round of biscuits until all your dough is used up.
Place biscuits into the oven and bake for 14-18 minutes or, until golden brown.
While your biscuits are baking, make the sausage gravy:
Old Fashion Sausage Gravy
1 lb. RegenMarket pork sausage 
1/4 cup flour
2 cups whole milk
salt and pepper to taste
In a cast iron skillet, brown the pork. If you want to use other spices to flavor your sausage do it here. Sprinkle the flour over the meat and fat, brown your flour just a bit about 2 minutes, stirring constantly.  Pour most of the milk in and cook, stirring frequently, until the gravy has thickened, if it gets too thick, add the rest of the milk. Taste and adjust seasoning as needed. 
Use your creativity with the gravy. I used the pork sausage I had on hand which was the RegenMarket Italian ground pork and added a little salt and pepper. It was perfectly seasoned and yummy. You could add maple syrup or garlic and onion powder when cooking your ground pork, let your imagination run wild.
Serving
By now your sourdough biscuits should be done baking. Pull from the oven and set them on a plate, cool. Split the biscuit and pour gravy over the top. You will have all day power to conquer ANYTHING after eating this dish! Works great for a quick dinner too.