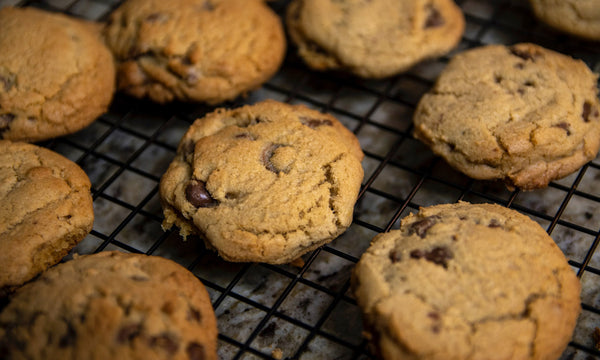 Recipe: Chocolate Chip Lentil Cookies
BY TIMELESS NATURAL FOODS
Lentils lend a a rich, nutty flavor and softness to this ever-popular snack. This recipe and many others can be found in
The Pea and Lentil Cookbook--From Everyday to Gourmet
.
Prep time: 20 minutes
Cook time: 30 minutes
Serves: 7 dozen cookies
1 ½ cups butter
2 ½ cups packed brown sugar
1 cup white sugar
4 teaspoons vanilla
5 eggs
4 cups all-purpose flour
1 teaspoon baking soda
1 teaspoon salt
¾ cup Timeless French Style Lentils, thoroughly cooked in 2 cups water, drained, pureed
3 cups old-fashioned rolled oats
2 cups semi-sweet chocolate chips
2 cups chopped walnuts
Preheat oven to 375 F.
In a large mixing bowl, cream together butter, brown sugar and white sugar. Add vanilla and eggs; beat until smooth. Add lentil puree to butter mixture.
In a separate bowl, sift together flour, salt and baking soda. Add to creamed mixture and blend lightly.
Gently blend in oatmeal, chocolate chips and nuts until evenly mixed. Chill dough until ready for handling. Drop dough in rounded tablespoons onto an ungreased cookie sheet. Bake 5 minutes; turn pan and bake another 5 minutes, or until cookies are lightly browned.